Corporate Responsibility and Sustainability (CR/S)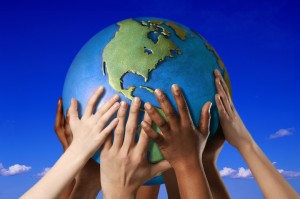 Whether it's called Corporate Social Responsibility, Corporate Responsibility or Sustainability or just CSR or CR/S, every company has a unique business case that can successfully drive this initiative. Despite the twists and turns of the global economy, environmental trends and societal forces give momentum to these long-term corporate management systems. STC helps clients target their business drivers to design, implement, and improve Corporate Responsibility and Sustainability (CR/S) programs and performance.
Establish the Business Case for Sustainability
Our real-life experience in industry and sustainability consulting allows us to provide sound strategies for CR/S programs that address stakeholder values and are vital to success in today's global organizations. Our CR/S practice leadership has experience with brands, supply chains and NGOs, and has built programs from the ground up, both as internal senior leaders and as external expert consultants.
Assessment and Materiality
CR/S initiatives must be significant, or material to the organization's long-term success.  STC consultants assist companies in assessment to determine material issues around which strategy and programs are designed. We perform benchmarking studies and gap analyses, develop implementation road maps and establish key metrics that drive performance. Employing lifecycle thinking about a company's products, operations and services, we identify the sustainability initiatives that are critical to customer loyalty, employee engagement and business success. We assist in developing vision and policy statements, work with teams to set targets and objectives, help with employee and supply chain engagement, and provide communications and training support.
Sustainability and Corporate Responsibility Reports
Public reporting and responding to customer questionnaires and various other stakeholders are increasingly demanding elements of a CR/S program. We work with clients to develop their Corporate Responsibility or Sustainability reports in conformity to the Global Reporting Initiative (GRI) G4 Guidance. We guide company responses to customer questionnaires and draft client submittals to online CR/S data-gatherers such as the CDP, Electronic Industry Citizenship Coalition (EICC)-ON, Trucost, Sustainalytics and others.  Some companies first become aware of the need for a corporate responsibility program when they receive inquiries from suppliers, customers, or NGOs. Others are suppliers to global brands who increasingly demand more sustainability data. We assist clients in crafting appropriate responses to various external inquiries from energy, GHG and waste data to responsible sourcing, conflict minerals and human rights.
Audits
Standards and verification audits are important elements of implementing a CR/S program. STC conducts social compliance audits that include labor, ethics and EHS standards, as well as management system elements.  Labor standards address issues such as child labor, working hours and freedom of association.  Ethics standards involve business codes of conduct that include fair business, business integrity, anti-bribery and whistle-blower protection. We have performed client internal audits following the EICC Validated Audit Protocol, version 5.01, preparing clients for their formal review.  STC guides clients through the maze of social accountability standards and industry initiatives such as Sustainability Consortium, GRI, Sustainability Accounting Standards Board (SASB), SA 8000, EICC, ISO 26000 and others.
For more information about Corporate Responsibility and Sustainability support, contact Barbara Ruble at (410) 625-1952 or bruble@stcenv.com.
Examples of  CR/S Engagements include:

Confidential Global Commercial Client: STC briefed executives on the evolution of CSR as a business function, the current state of industry programs, and how recent trends impact the clients industry. We helped our client evaluate the potential value of CSR programs to its operations. We then crafted the company's first CSR program, leveraged the strength of existing programs, and proposed a path forward for subsequent development. We also helped define success measures.
International Rectifier (IR): Acting as an extension of the corporate EHS / CSR department, STC guides the development of a complete program which will include supplier management, philanthropy, environmental sustainability leadership, and membership in the EICC. We helped IR prepare for its first EICC audit at a non-US facility. Through stakeholder analysis, coaching for audit participants, and as expert advisors to senior and executive managers, STC has helped launch an integrated CSR program for IR, to position the company competitively in the years ahead.