EHS Auditing
Audits are an important tool for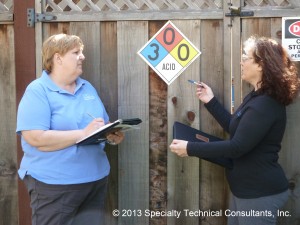 assuring compliance with regulatory requirements, company standards and management systems. Third party auditors add value by providing a fresh independent view. By proactively identifying issues through audits and addressing them through corrective and preventive actions, companies improve EHS performance, prevent violations and fines, and demonstrate due diligence in accordance with federal audit policy.
The STC team helps our clients design, implement, and improve their compliance audit programs. Depending on client objectives, STC will train the firm's own EHS auditors, join in-house audit teams, or conduct the audits ourselves. STC follows well-practiced standard procedures in conducting EHS compliance and management systems audits. Our audit professionals have performed hundreds of EHS audits over the past decade or more and their ongoing work in tracking EHS regulatory updates and keeping the company's eight audit/compliance guides up-to-date makes STC uniquely qualified. Because of their broad experience in industry and consulting, STC auditors consistently provide sound recommendations for improved compliance management actions. STC is a valued legal partner, having extensive experience in working under attorney-client privilege, both for law firms and for in-house counsel.
For more information about EHS auditing services, contact Barbara Ruble at (410) 625-1952 or bruble@stcenv.com.
Representative clients for STC's specialized compliance auditing and consulting programs include:
Johnson & Johnson:
STC has been working with various Johnson & Johnson companies for more than 10 years and has conducted dozens of EHS audits. In some cases, these audits have identified opportunities for significant cost savings. STC analyzed audit results and presented webinars designed to help J&J facilitate knowledge transfer regarding common program weaknesses as well as best practices. STC supported corrective and preventive actions by preparing compliance plans and permit revisions and conducting warehouse racking assessments. In addition, STC has conducted regulatory research regarding applicability of federal and state legislation to potential new products and operations.
Confidential Petroleum Company:
STC conducts EHS audits of various manufacturing, transportation, and marketing facilities for a major petroleum company with thousands of U.S. locations. As part of this process, we analyze audit results to help the client understand compliance trends across its operations.