Regulatory Information and Support Tools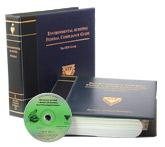 Keeping current with regulatory changes can be a time consuming task. For an organization with manufacturing operations in several states and jurisdictions, it might take hours to sort through the myriad federal and state rule proposals and adoptions. STC has available a variety of program support tools designed to keep our clients  current on these diverse – and frequently changing — EHS regulatory requirements.
STC's Regulatory Update Tracking Service provides periodic summaries of federal and state proposed and final rules and communicates the compliance program impacts of these changes, customized to the scope and applicability of each clients operations and activities. STC's experienced regulatory analysts monitor federal and state regulatory changes and provide customized summaries of these changes for review and distribution t. Our regulatory update tracking services are customized to your operations and needs – site location(s), processes and operations, and federal/state regulatory program applicability. We currently provide these services for clients in the semiconductor and food processing industries, as well as a diversified global manufacturing client. STC's Regulatory Update Tracking Service can provide either monthly or quarterly summaries – and is available in a variety of formats to support your EHS information management specifications.
Revisions to ISO 14001 have accentuated the need for companies to identify their compliance obligations in detail. STC helps clients complete the task of compiling registries of requirements by identifying the regulatory and company requirements applicable their sites and operations. The scope of each registry is customized to the site's operations, activities and program responsibilities. We have the experience and knowledge to effectively and efficiently build these registries to present federal, state and local environmental health and safety regulatory obligations – as well as company and site-specific compliance management program requirements – into user-friendly tools that assure continued compliance.
STC regulatory specialists also serve as the content authors responsible for 19 different EHS regulatory compliance, training and management systems audit guides, which are published by Specialty Technical Publishers (STP) of Vancouver, BC, Canada. The publications listed below cover many different aspects of EHS management and compliance.
Audit/Compliance Guides:
Environmental Auditing: Federal Compliance Guide
Environmental Auditing: California Compliance Guide
Cal/OSHA Compliance and Auditing Guide
OSHA Facilities Auditing: Federal Compliance Guide
OSHA Construction Auditing: Federal Compliance Guide
Motor Carrier Safety Auditing:  Federal (DOT) Regulatory Inspections Guide
Pipeline Safety Auditing: Federal (DOT) Compliance Guide
Environmental State Differences: Regulatory Summaries (for all 50 states + Puerto Rico)
Health and Safety State Differences: Regulatory Summaries (for all 50 states + Puerto Rico)
Training Guides:
Regulatory Training Requirements: EPA, OSHA, and DOT Compliance Guide
Regulatory Training Requirements: California Compliance Guide
Regulatory Training Requirements: Healthcare Facilities Compliance Guide
Management Systems Guides:
ISO 14001 EMS Implementation: Guidance Manual
OHSAS 18000 Health and Safety Management Systems Implementation: Guidance Manual
Specialized Guides:
Vehicle Maintenance Facilities: Federal Compliance Guide
Vehicle Maintenance Facilities: California Compliance Guide
Fire Code Management of Hazardous Materials:  Essential Guide
ANSI Standard for Safe Use of Lasers
Manufacturer Testing Requirements for New Large Nonroad Spark Ignition Engines
Preparing regular quarterly updates for these guides and our Regulatory Tracking Service monitoring allows STC's regulatory specialists to retain their nationally-recognized roles as experts both on the content of these complex issues and on techniques to present this complicated information in the most readable, user-friendly form. We endeavor to keep our clients and the regulated industry current on major regulatory changes and EHS topics through our quarterly newsletter, The Advisor: News You Can Use, and Opportunities for Learning EHS webinar series. More information about these quarterly communications can be found on the Resources page of our website (www.specialtytechnicalconsultants.com)
For more information about regulatory information and support tools, contact Melanie Powers-Schanbacher at (908) 707-4001 or mpowers@stcenv.com.
The following examples demonstrate the power and utility of STC's EHS web-based information management activities:
General Electric:
For the past four years, STC has provided GE with detailed EHS regulatory compliance auditing information as the primary source for GE's global internal EHS intranet management system.
Major Oil Company:
STC's Guides were used as the basis for producing detailed legal requirements analyses for a major oil company's federal, state, and local EH&S, DOT, Coast Guard, and related regulatory compliance requirements at more than 50 bulk oil terminals, pipelines, and support facilities in 23 different states. STC specialists helped identify what requirements applied to each facility and then integrated facility permit requirements into the applicable sections of the federal and state compliance guides. The result was facility-specific detailed summaries of all their compliance requirements, including regulatory deadlines, and relevant training, reporting, and recordkeeping needs that the client is using to organize and manage its regulatory compliance activities. The project is now being extended to one of the largest refineries in the United States.