Regulatory Compliance Support
STC Principals and key staff members draw on their wealth of experience in compliance management, permitting, training, and other consulting services to help our clients meet their EHS compliance responsibilities efficiently and effectively. Several of the country's leading law firms frequently refer clients to STC for such services. We have extensive experience in working under attorney-client privilege, both for law firms and for in-house counsel.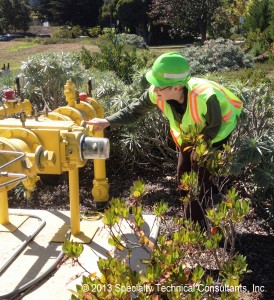 A basic starting point of regulatory compliance is the identification of applicable requirements. STC has developed registries of requirements for many clients, tailoring the format and level of detail to client specifications. Additional information about STC's regulatory update tracking and analysis services is presented in the Regulatory Information and Support Tools section.
STC consultants provide a wide range of implementation support based on the applicable requirements. We assist clients in all aspects of the permitting and licensing processes, including assembling information, submitting applications, and working with client and agency staff to remove roadblocks. Our consultants also work with clients to establish effective processes and tools for compiling the information needed for regulatory reports.
STC consultants have developed a broad range of written programs from clients ranging from universities, pharmaceutical companies, food manufacturers and many others.  These programs are pragmatic in approach and customized to clients' operations, activities and culture.
Site acquisitions and closures are a time of regulatory compliance concern. STC works with clients during an acquisition to design techniques for successful integration of the new facilities' programs into our client's own existing systems.  We help clients develop and align policies, objectives, procedures, and metrics, allowing clients to accelerate technology transfer, ensure smooth corporate integration, and reduce risk. STC consultants have assisted with site closure activities, including interaction with regulatory agencies, sampling, and direction of cleanup activities through final closure.
For more information about regulatory compliance support, contact Barb Ruble at (410) 625-1952 or bruble@stcenv.com.
Alza (A J & J Company):
STC is providing extensive air quality compliance assistance, including permitting and control technology assessment. We have also supported the firm's development of storm water and SPCC compliance programs.
Genentech:
STC is providing environmental, health, and safety management assistance to this large biotech company, including chemical safety reviews, program audits, hazardous waste assessments and development of program documents.
Thoratec:
STC has provided outsourced EHS management to this manufacturer of medical devices since 2008. Our support has extended to all aspects of EHS compliance, including compiling a registry of requirements, developing written programs, delivering training, conducting area inspections, investigating incidents, tracking the implementation of corrective and preventive actions (CAPAs), and submitting regulatory reports.